FOR SALE/LEASE:
Big Two Storey Residential House & Lot, Lot Size: 440 sq.m., Floor Area: 350 sq.m.
A beautiful class A type, two storey house with a floor area of 350 sq m, fully furnished with high grade furniture, appliances and fixtures nicely located on a corner lot of 440 sq m along the road in the ideal, quiet and peaceful residential area of Olongapo City free from floods. It has an activated telephone landline, CATV, and Internet connection.

YOU JUST HAVE TO MOVE IN…
GENERAL PROPERTY INFORMATION
LOCATION
Olongapo City, Zambales, Philippines
Map of Zambales Province | About Zambales Province
LOT AREA
440 sq.m.
FLOOR AREA
350 sq.m.
PROP. TYPE
House and Lot
HOUSE DECRIPTION
Beds: 4
Baths: 3
Garage Size: 3 cars
House front has 2 cars garage, landscaping/garden, and backyard has 1 car garage with nipa hut and landscaping/garden.
First storey - has big and cozy living room, air conditioned guest room, dining room, a nook, kitchen complete with oven, refrigerator, center island granite countertop, exhaust, overhead cabinets, stainless steel sink, dirty kitchen and a common bathroom
Second storey - consist of a family living area, a terrace, air conditioned Master's bedroom with built-in closet and toilet with bath-tub, two (2) air conditioned bedrooms with one (1) common bathroom
Located in a quiet and peaceful residential area of Olongapo City free from floods
PRICE

Php 15,000,000

(Negotiable)

Rental Price:

Php 48,000 per month



Click to find out price in other currencies.
DISTANCE TO POINTS OF INTEREST
| | |
| --- | --- |
| GROCERY STORES | about 8 minutes by car |
| RESTAURANTS | about 8 minutes by car |
| SHOPPING CENTER | about 12 minutes by car |
| WET MARKET | walking distance |
| PREP./ELEM. SCHOOL | walking distance |
| HIGH SCHOOL | about 5 minutes by car |
| COLLEGE/UNIVERSITY | about 10 minutes by car |
| HOSPITAL | about 10 minutes by car |
| BEACH RESORTS | about 15 minutes by car |
| GOLF COURSE | about 25 minutes by car |
| AIRPORT | about 40 minutes by car |
| TOWN CENTER | about 8 minutes by car |
| CAPITAL OF PROVINCE | Iba - about 1hr 30 mins. by car |
| REGIONAL CENTER | San Fernando City - about 1 hr 30 mins. by plane |
| FAMOUS LAND MARK | Ulo ng Apo - about 8 mins. by car |
THIS PROPERTY: Code: RH-6400 (Big Two Storey House & Lot - Zambales)
E-mail: zambales-sammy@islandsproperties.com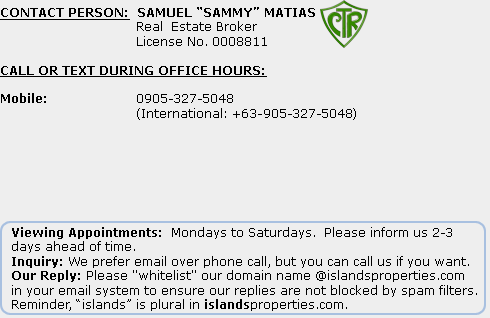 Contact: Bambi Temblor, Realtor - REB License No. 2006-014
Jorge - Property Listing Specialist For Property For Sale
Archer - Property Listing Specialist For Property For Rent
Mobile: + 63-917-7000011 (Text Msg Only) or +63-906-444-9999(Text and Call during office hours only)
Landline: +63-35-422-9679
Office Address: Realphil.com Realty Services - Unit 1 Clack Building
South Road, Calindagan (Near Ceres Terminal) Dumaguete City 6200.
Viewing Appointments: Mondays to Saturdays. Please inform us 2-3 days ahead of time.
NOTE: We prefer email over phone call - but you can call us if you want. When you e-mail us, please include your FULL NAME, HOME ADDRESS, PHONE NUMBER, CELLPHONE, CURRENT LOCATION & NATIONALITY

Dialing Tips | International Dialing Code | Philippines' Current Time


MEASUREMENT/ABBREVIATION GUIDE
1 hectare = 2.47 acres | 1 hectare = 10,000 square meters | 1 acre = 4,000 sq. m.
1 square meter = 10.76 square feet | 1 kilometer = 0.62 miles
1 meter = 3.28 feet | 1 meter = 1.09 yards
sq.m. = square meters | PHP or P = Philippine Peso | USD or $ = United States Dollar
m = meter | approx = approximately | km = kilometer | min = minute

Currency Converter | Measurement Converter
About Zambales Province | Map of Zambales Province